PROJECTS
At HSI®, we improve the performance and well-being of people in complex systems by putting people first. We define and understand the problem, we design and develop a solution, we test and evaluate our system with scientific rigour, and we train our clients to enhance their experiences. Learn about how we have made a difference through our many projects.
DESIGN & DEVELOP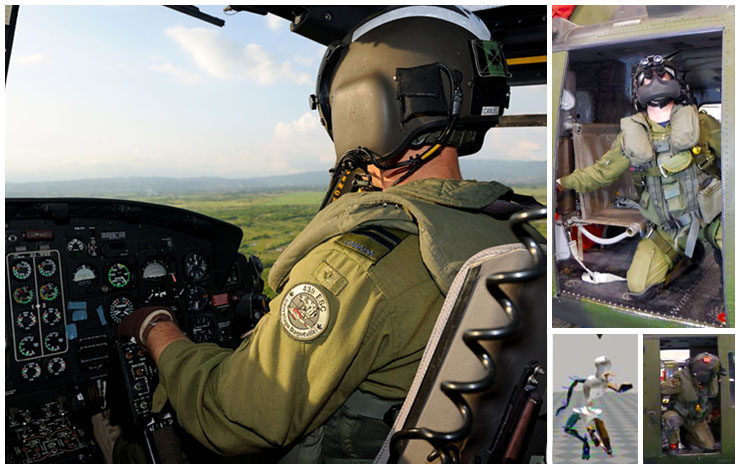 Challenge
Unique occupational demands can make workers particularly prone to certain injuries. For example, aircrew members flying Griffon helicopters must wear heavy helmets and equipment (e.g., night vision goggles). They report higher than average incidence of cervical spinal injuries. Our clients asked us to help quantify the physical demands faced by aircrews during their missions as a first step to reducing injuries.
Approach
We analyzed the tasks that aircrew members must perform and the physical demands of these tasks, throughout a range of different combat missions. This allowed us to design and develop a biomechanical model using motion capture that was used to quantify the physical stresses they face when doing the different parts of their jobs.
Results
Our client is one step closer to knowing how best to reduce the risk of neck strain and prevent injuries that can ground or debilitate their aircrews in the future. We developed a unique mission/task-based model for analyzing acute and chronic physical demands in any demanding job and environment. This model can now be used to assess both design and administrative methods for reducing these demands.
The Bottom Line
Work-related injuries are both harmful and costly. Whether heavy lifting, repetitive motion or other physical stressors, we can help with quantifying actual physical stresses on the body and pinpoint problems to support well-being and performance while reducing the risk of injury.
Project Contact: Dave Tack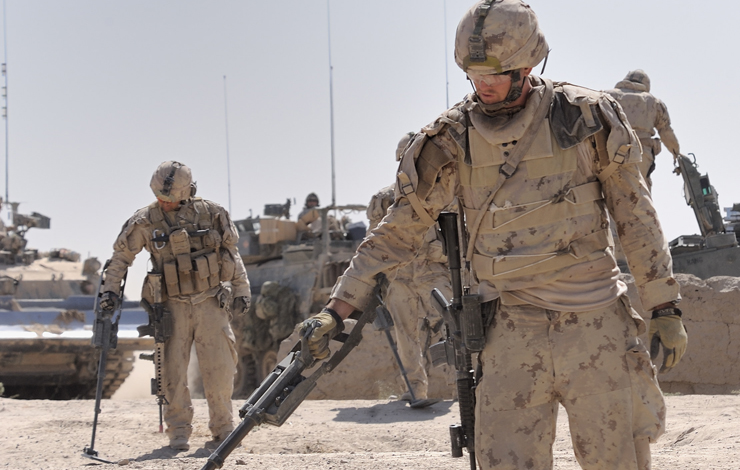 Challenge
To counter the impact of improvised explosive devices on military convoys, we developed a scale that measured team threat detection and assessment as well as designed a perceptual judgment task.
Approach
The scale was administered through a bird's eye view observation technique during simulated pre-deployment training exercises.
Results
Results provided concrete ways in which team communication, coordination, and cooperation and overall team performance (i.e., accurate detection of threats) could be improved.
The Bottom Line
Teams work effectively when communication is shared, when members are coordinated, and when cooperation is the central focus. With our knowledge and experience, we can help your team perform optimally.
Project Contact: Michael Thomson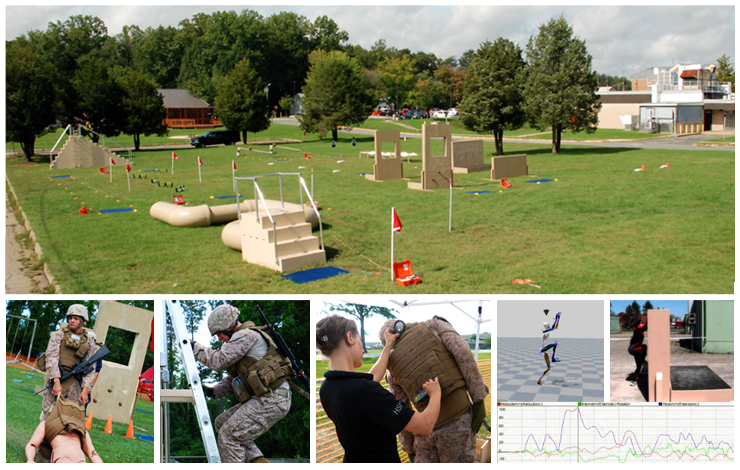 Challenge
Our client (the U.S. Marine Corps) wanted to quantify the effects of the infantry Marine's loads (i.e. everything they wear and carry) on combat performance. As no comprehensive, valid, and reliable systems to assess soldier performance under load existed currently, we were tasked to build a system that would do just that.
Approach
Marine Corps subject matter experts provided input in focus groups and interviews about critical combat tasks and key performance indicators. Workshops explored possible obstacle course elements and critical tasks; these were downselected in an iterative and systematic process. Eventually, obstacles were physically constructed, and subsequently verified and validated.
Results
We designed a transportable instrumented obstacle course capable of systematically and scientifically determining the effects of worn and carried loads on Marine mobility and combat performance. This program was named the Marine Corps Load Effects Assessment Program (MC-LEAP).
The Bottom Line
Whether in manufacturing or in firefighting, knowing how workers will perform under varying conditions is critical to protecting their safety and well-being. Our approach is transferable to any problem, ranging from exposure to heat or cold, repetitive tasks, or high stress environments.
Project Contact: Alison Kelly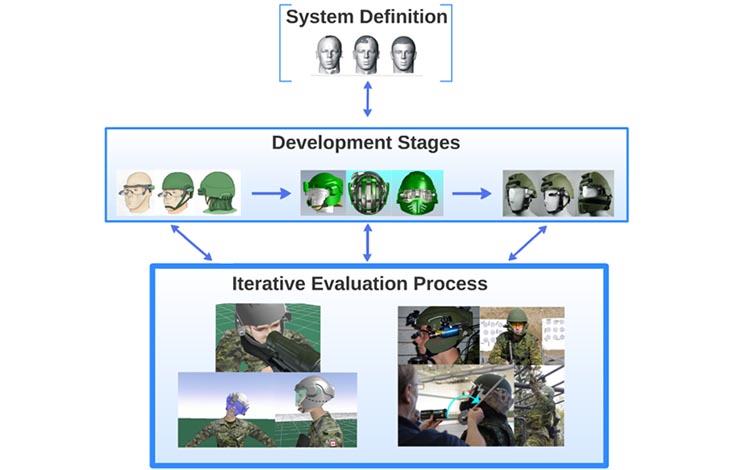 Challenge
Helmets are an important way to keep soldiers safe. As technology continues to emerge, there is an increasing need to integrate many different capabilities into future helmet systems (e.g., enhanced protection, sensing, information display, and communications technologies). Our clients asked us to empirically determine the most promising headwear integration concept to enhance the survivability and effectiveness of future soldiers.
Approach
We used an interactive and iterative design process to develop, evaluate and demonstrate new concepts in helmet design. These developmental stages progressed seven head borne concepts, to four digital models, to four physical and functional prototypes.
Results
This work will hopefully inform the design of future helmet systems, helping soldiers to perform optimally and to return safely from their missions.
The Bottom Line
This project is a great example of how new equipment or technology should be tailored to the person to ensure maximal effectiveness. In our view, it all begins with asking "What does this person need to do in their job?" and working to build the systems that best support their roles.
Project Contact: Edward Nakaza